Package Steel Buildings
Package Steel Buildings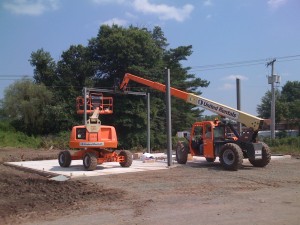 systems go far beyond traditional box-type structures with metal panels with the ability to incorporate glass, masonry, concrete and many other types of exteriors. Our Pre-Engineered Steel Buildings are appealing where large column-free floor areas are required. The Package Steel Building System™ allows you the freedom to create the unique look and functionality you desire for your business.
Package Industries was founded in 1962. Since then they've become the #1 provider of high quality steel buildings in New England. PHC is proud to offer the Package Steel Building System exclusively through our builder network, which represents some of the best contractors in the Northeast.
There are many reasons to choose Package Steel Buildings:
Promises Made, Promises Kept
Legendary Builder Support
Superior Detailing
Every Package building is delivered complete with what's required, no surprises. They know you always have a choice and they want to make it easy for you to choose our steel buildings. That's why they're #1 in New England.
Features & Benefits
The Package Steel Building System is the easiest to erect in the industry because there are fewer components. Each component is carefully detailed to ensure a proper fit. Time is taken to anticipate potential construction issues before they become problems. If problems do arise, the President of Package is usually the first on the scene with solutions, whether it's our problem or not.
Package Steel building systems offer a variety of attractive features and benefits:
design flexibility
large column-free floor areas
structural integrity
lower maintenance costs
Contact Us
For more information about how you can benefit from package steel buildings, contact PHC via our web form or call (203) 795-4401.
General Contracting Company serving New Haven, West Haven, Milford, Orange, Bridgeport, Fairfield, Norwalk & Branford CT