Building Construction
Over the years, PHC has become one of Connecticut's top site development contractors. We are committed using innovative and eco-friendly solutions in all of our projects. Our wide range of services allows to to provide flexible options to our customers. Take a look below to see all of our building capabilities:
Land clearing
Rock excavation
Laser grading
Earth excavation
Installation of foundations
Site remediation
Soil stabilization & erosion control
Drainage
Site electrical
Sewer systems
Steel Building Construction
Project Management
Design
Construction Management
Supervision
Subcontract procurement and coordination
Schedule Management
Budgeting
Cost Monitoring
Roadway reclamation
Custom specifications
Pre-fabrication
Steel Building Sales
Concrete Work
From foundations to sidewalks, PHC provides quality concrete services for commercial projects. The team at PHC handles every project with total precision, leaving smooth, durable slabs after every pour that don't crack or crumble. Our range of services include: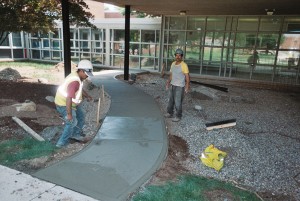 Masonry
Custom Stone work
Paving Stones
Retaining Walls
Curbing
Pre-cast
Cast-in-place (formed and poured)
Decorative
Contact Us
For all your construction needs, choose Prindle Hill. Contact us today about our rates or call us at (203) 795-4401.
General Contracting Company serving New Haven, West Haven, Milford, Orange, Bridgeport, Fairfield, Norwalk & Branford CT